After the war, General Tibbets was a technical adviser to postwar Bikini atoll bomb tests in 1946, held assignments with the Strategic Air Command, and helped establish the National Military Command Center in the Pentagon. He retired from the Air Force as a brigadier general in 1966.
After his military retirement, he became president of a Columbus-based air taxi company. His role in the atomic bombing of Japan continued to attract controversy.
Also, the general became angered about the planned 50th-anniversary exhibit of the Enola at the Smithsonian Institution that included a lengthy explanation of the suffering caused by the atomic attacks. He and veterans' groups said there was not enough presented about Japanese villainy during the war. The Smithsonian exhibit, at the National Air and Space Museum, went ahead without commentary or analysis.
The head of the Japan Congress Against A- and H-Bombs yesterday rejected the idea that the bombing saved lives. "What Mr. Tibbets did should never be forgiven," said Takashi Mukai, whose mother, a nurse, suffered lifelong effects of radiation from treating bombing victims. "His actions led to the indiscriminate killing of so many, from the elderly to young children.
"Nevertheless, I would like to express my condolences to his family, and pray for his soul," he said. "What's important now is that we move toward a world free of nuclear weapons."
In his interview with Terkel, General Tibbets said he met with President Truman in 1948 in the Oval Office, and the president asked the airman if he had regrets. As he would for the rest of his life, General Tibbets replied that he had none and had done his duty to protect the country.
"There is no morality in war," he told the Virginian-Pilot in 2002. "A way must be found to eliminate war as a means of settling quarrels between nations."
At the same time, he expressed no regrets over his role in the launching of atomic warfare. "I viewed my mission as one to save lives," he said. "I didn't bomb Pearl Harbor. I didn't start the war, but I was going to finish it."
He leaves his second wife, Andrea Quattrehomme Tibbets, whom he married in 1956, of Columbus; two sons from the first marriage, Paul Tibbets III of North Carolina and Gene Tibbets of Alabama; a son from his second marriage, James Tibbets of Columbus; and six grandchildren. A grandson named after General Tibbets followed him into the military as a B-2 bomber pilot currently stationed in Belgium.
In interviews, General Tibbets said he did not want a funeral or headstone because he did not want to attract protesters to his burial site. He told the Columbus Dispatch in 2005 he wanted his ashes scattered over the English Channel, where he loved to fly during the war.
Material from The New York Times and Associated Press was used in this obituary.
PAUL TIBBETS AND THE ENOLA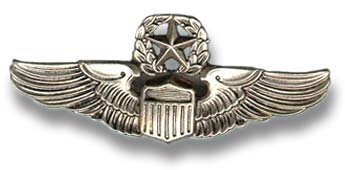 COMMAND PILOT BADGE
I will touch only briefly on the actual bombing, and Paul Tibbets, as this information is well known. This particular plane was among a group of fifteen B-29's selected by Tibbets at the Martin, Omaha plant. These planes , plus 1800 men would comprise the top secret group which would be known as the 509th Composite Group, and would be temporarily stationed at Wendover, Utah. This was a remote and secure location where they would practice until they were ready for their unknown extraordinary experience which was to follow. The 509th moved to the island of Tinian in the Marianas which had a very desirable 8500 foot runway. On July 26, 1945, the cruiser Indianapolis delivered a large wooden crate. It is frightening to think of how close we came to not even having the bomb. Four days after leaving Tinian, the Indianapolis was sunk by Japanese subs, killing nearly 900 men. The ships captain, McVay, was court martialed for failure to follow evasive maneuvers in a highly controversial finding. Never able to clear his name, he committed suicide.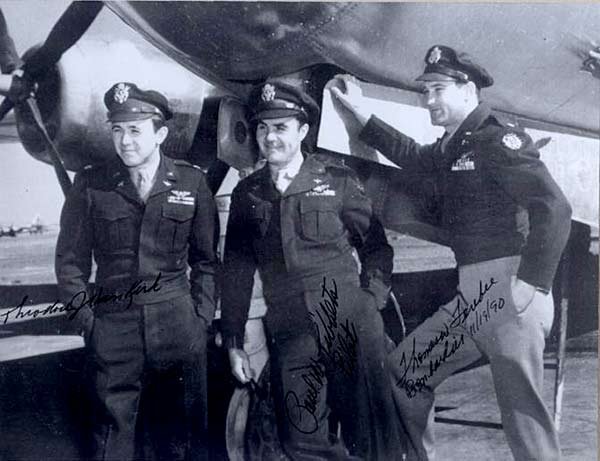 PAUL TIBBETS AND CREW