The Life and Death of Tiger Lil
by Wayland Mayo
My assignment as a crewmember on Tiger Lil — Chapter 2
Page 1 of 2 Pages


My life in the Air Force had been very dull. After graduating from Photo school in Denver, and an unhappy existence stationed at Forbes AFB in Topeka, I volunteered to go to Okinawa. After all, I wanted to fly, and working as a camera technician wasn't even close. Okinawa was going to be the answer, right? Well not exactly. My friend Bill Welch and I continually applied for flight status with no luck. Finally on April 19-1950, we were both placed on flying status. Things were looking up. I had the misfortune of being assigned to 903, affectionately known as the Heap. I wondered why they called it that. I found out on my second flight, as major malfunctions required us to bail out.
You can read the official Air Force report.
Go to "Jets shoot down crippled B-29 in China Sea as crew jumps."
You may return to this page via your back button
I was now on flying status without a plane. A stroke of luck came my way. I really admired Tiger Lil, had a lot of respect for her crew. I was selected to become a member of Lil's crew, and I could not have been happier. There is a special relationship between bomber crewmembers. You work together as a team, proud of your plane and proud of your crew. You live together, fly together, and quite possibly die together. I felt that I was finally getting somewhere, I loved the airplane and very much liked the crew. I gave it my best shot, doing my job as best I could.
Tiger Lil Crew
Standing, L to R: Hubler, RO; King, FE; Long, Nav; Ridge, Radar; (Unidentified.), Pilot; Campbell, A/C. — Kneeling, L to R: Clark, TG; DeHaven, APG; Mayo, APG; Rij, LG; Thorpe, RG; Browning, CFC. Photo taken immediately after 25th mission. Capt. Torrey assumed A/C's position right after.
Photo, recorded at Yokota, ctsy. Wayland Mayo


Nose art on airplanes, especially B-17's and B-29's has always been popular, appearing on calendars, publications, movies, etc. Tiger Lil was and is still considered one of the best.


Everything was really going great, but dark clouds were gathering on the horizon, with June 25, 1950 approaching. The Korean conflict started with the stark realization that the U.S. was not prepared. It became immediately necessary to obtain photographic coverage of all North Korean airfields, power plants, dams, rail systems, etc. The Tiger Lil crew was among the first to fly into enemy territory.

She took our crew over places like Pyongyang, where the antiaircraft fire was extremely heavy, and accurate. She took us to places with strange sounding names, like Sinuiju, Sinanju, Hamhung, and Hungnam, and forbidden places like Manchuria, Antung, the Yalu river, and Rashin, which was almost in sight of Vladivostok, Russia. The Sinuiju area was a beehive of activity by Mig-15's. Even so I always felt safe in Tiger Lil, knowing that she received the very best maintenance, and each crewmember kept his equipment in top shape.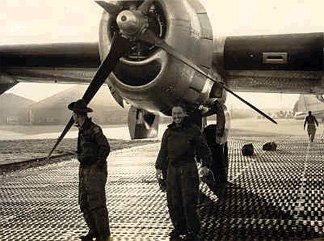 Above: Capt. Ridge (L) & Capt. Torrey (R) happy
to be
back at Yokota after engine # 3 went out over Korea.