The Imperial Japanese Navy acquired its first submarines in 1905 from the United States Electric Boat Company, barely four years after the US Navy had commissioned its own first submarine, USS Holland. The ships were Holland designs, shipped in kit form to Japan and then assembled at the Yokosuka Naval Yard, to become Hulls No. 1 through 5.
The Kawasaki Dockyard Company also bought plans of an improved version directly from Holland, and built two ships (Hulls No. 6 and 7), with the help of two American engineers, Chase and Herbert, who had been assistants to Holland.

HOLLAND-1 JAPAN's FIRST SUB
Although the capabilities of these first ships actually proved disappointing (and were of no help in the Russo-Japanese War), the first submarine squadron was soon formed at Kure Naval Base in the Inland Sea. In 1909, the first submarine tender, Toyorasi, was commissioned.
German submarine successes in the Northern Atlantic during the First World War further reinforced Japan's willingness to develop this weapon. Eighteen ocean-going submarines were included in the 1917 expansion program. At the end of the war, Japan also received nine German submarines as reparations, which allowed her to accelerate her technological development during the interwar period.

I-58 PREPARED FOR SCUTTLING OFF SASEBO JAPAN-U.S. NATIONAL
World War II
Imperial Japanese Navy submarines formed by far the most varied fleet of submarines of World War II, including manned torpedoes (Kaiten), midget submarines (Ko-hyoteki, Kairyu), medium-range submarines, purpose-built supply submarines (many for use by the Imperial Japanese Army), fleet submarines (many of which carried an aircraft), submarines with the highest submerged speeds of the conflict (Sentaka I-200), and submarines able to carry multiple bombers (WWII's largest submarine, the Sentoku I-400). They were also equipped with the most advanced torpedo of the conflict, the oxygen-fuelled Type 95. A plane from one such fleet submarine, I-25, conducted what is still the only bombing attack on the continental United States, when Warrant Flying Officer Nobuo Fujita attempted to start massive forest fires in the Pacific Northwest outside the town of Brookings, Oregon on September 9th, 1942.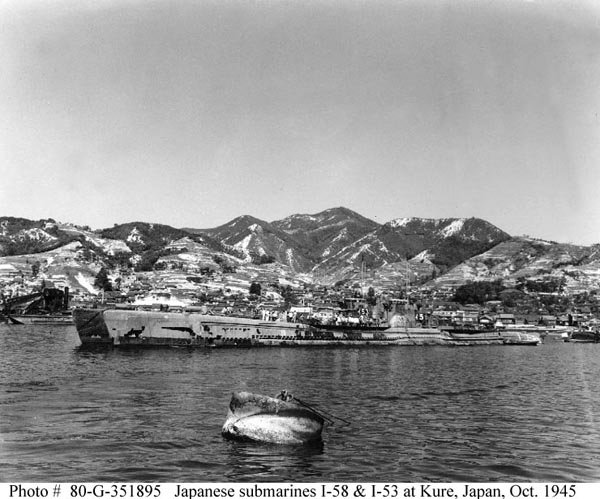 I-53 and I-58 at Kure, japan

I-58 JAPANESE SUBMARINE

I-400 Tokyo Bay SEN-TOKU CLASS WITH AIRCRAFT