BONG MARRIES HIS SWEETHEART, MARJORIE
Major Bong married Marjorie Vattendahl on February 10, 1945. They honeymooned in California after which he reported to Wright - Patterson
AFB in Dayton, Ohio. His new assignment was testing the Air Force's first jet, the Lockheed P-80 Shooting Star. On August 6, 1945, the 24 year old Bong was killed in Burbank, California. His aircraft apparently stalled near the ground, possibly due to a flameout. For some reason the information of his death was released publicly before his family was notified, so they learned of his death over the radio. America had lost it's very finest aviator. He remains in my memory to this day. Ironically he died on the same day the bomb was dropped on Hiroshima. Richard Bong was buried on August 8, 1945, in the Poplar Cemetery in Wisconsin.
MAJOR BONG'S AWARDS
Decorations: Medal of Honor, Distinguished Service Cross, Silver Star With One Oak Leaf Cluster, Distinguished Flying Cross with Six Oak Leaf Clusters, Air Medal with Fourteen Oak Leaf Clusters, The American Campaign Medal, American Defense Service Medal, Asiatic- Pacific Campaign Medal with One Silver Service Star, Philippine Liberation Medal, WWII Victory Medal, Australian Distinguished Flying Cross, and the Distinguished Unit Citation with One Oak Leaf Cluster awarded to the 49th Fighter Group.
MEDAL OF HONOR
Rank and Organization: Major, U.S. Army Air Corps.
Place and Date: Over Borneo and Leyte, 10 October to 15 November, 1944
Entered Service at: Poplar, Wisconsin
Birth Place: Poplar, Wisconsin. G.O. NO: 90. 8 December, 1944.
CITATION: For conspicuous gallantry and intrepidity in action above and beyond the call of duty in the Southwest Pacific Area from 10 October to 15 November 1944. Though assigned to duty as gunnery instructor and neither required nor expected to perform combat duty, Major Bong voluntarily and at his own urgent request engaged in repeated combat missions, including unusually hazardous sorties over Balikpapan, Borneo, and in the Leyte area of the Philippines. His aggressiveness and daring resulted in his shooting down eight enemy planes during this period.
THE RICHARD I. BONG WWII HERITAGE CENTER
The Center, built on the bayfront in Superior, Wisconsin, is intended to be a place where people can get in touch with history and gain understanding and appreciation for those who served our country. The Center will house the restored Lockheed P-38 Lightning displayed in a Southwest Pacific jungle setting. Other features will be a theater for viewing educational films , and a modern library containing publications for research.
MARJORIE BONG DRUCKER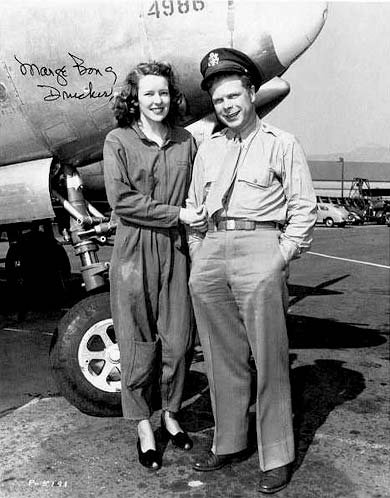 Dick and Marge next to his P-38
Marjorie Bong Drucker was first introduced to the national public as the sweetheart of Dick Bong, who affixed her photo to the nose of his P-38, which affectionately became known as "MARGE". Only six months after her marriage to Dick Bong he was killed in Burbank, California. Several years later she met and married Murray Drucker.In 1989 she helped establish the Bong P-38 Fund, with the goal of building a tribute to Bong and other veterans of WWII. Murray Drucker died in 1991. In 1995 she published "Memories", a book describing her life with Major Bong, with all proceeds going directly to the Bong Heritage Center. She became a frequent guest speaker around the country, promoting the Center as a tribute to all WWII veterans.
Mrs. Bong Drucker died after a long battle with cancer on September 27, 2003. She will be greatly missed.
Bong's Restored P-38


Bong's Restored P-38 now at the Richard I.Bong WWII Heritage center
Source: Story by website historian Wayland Mayo. Photos personally signed by Marge Bong owned by Mayo ctsy. Richard I. Bong WWII Heritage Center.
---