MAJOR RICHARD I. BONG, ACE OF ACES
I attended Riverside Military Academy in Gainesville, Georgia, for four years, and graduated in 1947. Riverside, although an infantry school supervised by Army instructors, it had a flight training program. I soloed in the PT-19, and got some time in on the PT-17 Stearman, my favorite plane. I was well acquainted with N.C. Congressman Herbert Bonner who offered me an appointment to West Point. All I could dream of was joining the Air Force. Periodically we had guest speakers in the auditorium, most of whom were military notables. The most memorable guest, and a man that really influenced my life was Major Richard Bong. Dick Bong arrived at Riverside with all the credentials you would expect from the "Ace of Aces". His talk was factual, impressive, and done with humility. I learned that he was born September 24, 1920, in Superior, Wisconsin. His first solo flight was in 1940, when he was 20. He later became a cadet in the U.S. Army Air Corp. After receiving his wings 2nd Lt. Bong received training in the P-38.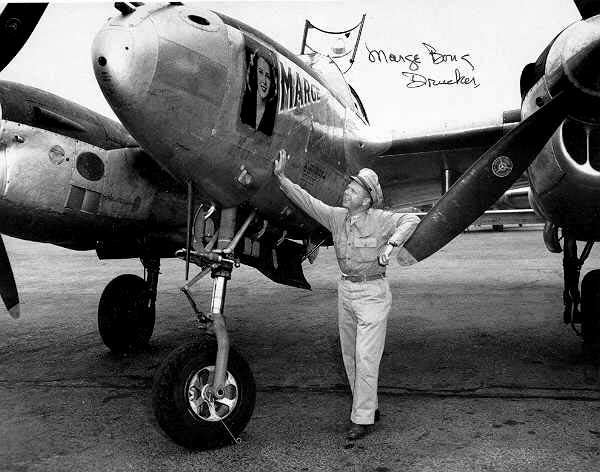 Dick Bong by his P-38. He shot down 40 Japanese planes to become our top Ace.
After mastering the P-38 he was sent to Australia, and then to Port Moresby, New Guinea, where he scored his first victories , downing a Japanese Val and a Zeke. By January 1943 he scored his 5th victory when he shot down an Oscar over the Anon Gulf. Dick was now an Ace. He continued with his superior aerial skills and soon became the top U.S. Ace in WWII with 40 kills. He was awarded the well deserved Medal of Honor, our nations highest award, by General Douglas MacArthur.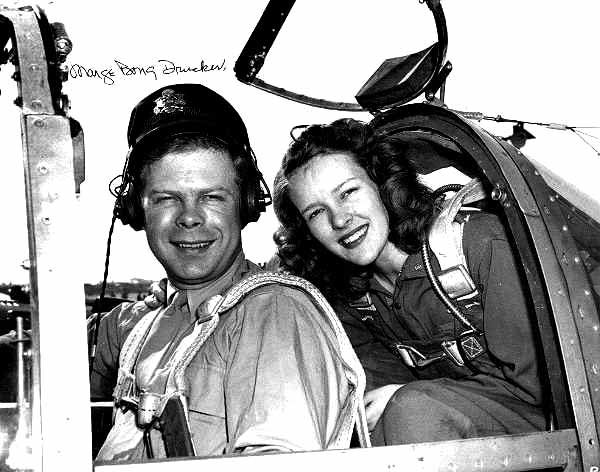 Dick and Marge in his p-38
Bong had been hand picked by General George C. Kenney in 1942 for his assignment to Australia to join the Fifth Air Force. Now General Kenney was concerned for his safety after his score reached 40, so he had him returned to the states, over Dick's strong objections. He traveled around the U.S. on a "public relations tour". To the best of my memory he was at Riverside in January of 45.
MY PERSONAL MEETING WITH BONG
The President of Riverside was General Sandy Beaver, who owned a huge home right on the campus. A select group of cadets were invited to his home on the evening of Major Bong's visit for a personal meeting with him. I was never more impressed to be standing face to face with him discussing aviation. He seemed more relaxed once he met everyone. He expressed his love of the P-38, and discussed his technique in combat with enemy planes. Not only was he credited with 40 kills but also with 8 probables and 7 damaged while on 200 missions. His real personality became apparent when he told of his famous "silent approach". He would fly over the field, perform a loop, feather both engines, and land without power, coasting up to his parking area. One story that really excited me was when he said he had flown under the Golden Gate Bridge and done loops around it. Obviously he was a man that knew his airplane, and possessed an incredible ability in flying it. When the get together ended I returned to my barracks, dreaming that someday I could be like him. I have never forgotten my meeting with the greatest Ace of all, Major Richard I. Bong.
---