Use of chemical weapons
According to historians Yoshiaki Yoshimi and Seiya Matsuno, Emperor Hirohito authorized by specific orders the use of chemical weapons in China. For example, during the invasion of Wuhan from August to October 1938, the Emperor authorized the use of toxic gas on 375 separate occasions, despite Article 171 of the Versailles Peace Treaty and a resolution adopted by the League of Nations on May 14, condemning the use of poison gas by Japan.
Preventable famine
Deaths caused by the diversion of resources to the Japanese military in occupied countries are also regarded as war crimes by many people. Millions of civilians in southern Asia — especially Vietnam and the Netherlands East Indies (Indonesia), both of which were major rice-growing countries — died during a preventable famine in 1944–45.
Torture of POWs
Japanese imperial forces are also reported to have utilized widespread use of torture on prisoners, usually in an effort to gather military intelligence quickly. Tortured prisoners were often later executed. A former Japanese Army officer who served in China, Uno Shintaro, stated:
The major means of getting intelligence was to extract information by interrogating prisoners. Torture was an unavoidable necessity. Murdering and burying them follows naturally. You do it so you won't be found out. I believed and acted this way because I was convinced of what I was doing. We carried out our duty as instructed by our masters. We did it for the sake of our country. From our filial obligation to our ancestors. On the battlefield, we never really considered the Chinese humans. When you're winning, the losers look really miserable. We concluded that the Yamato [i.e. Japanese] race was superior.
After the war, a total of 25 individuals were indicted as "Class A" war criminals, and 5,700 individuals were indicted as "Class B" or "Class C" war criminals by Allied criminal trials. This number included 178 ethnic Taiwanese and 148 ethnic Koreans. Of these, 984 were initially condemned to death, 920 were actually executed, 475 received life sentences, 2,944 received some prison terms, 1,018 were acquitted, and 279 were not sentenced or not brought to trial. High ranking executed individuals included Hideki Tojo, Tomoyuki Yamashita, and Masaharu Homma. The most prominent ethnic Korean was Lieutenant General Hong Sa Ik, who orchestrated the organization of prisoner of war camps in Southeast Asia. In 2006, the South Korean government pardoned 83 of the 148 convicted Korean war criminals.
Cannibalism
Many written reports and testimonies collected by the Australian War Crimes Section of the Tokyo tribunal, and investigated by prosecutor William Webb (the future Judge-in-Chief), indicate that Japanese personnel in many parts of Asia and the Pacific committed acts of cannibalism against Allied prisoners of war. In many cases this was inspired by ever-increasing Allied attacks on Japanese supply lines, and the death and illness of Japanese personnel as a result of hunger. However, according to historian Yuki Tanaka: "cannibalism was often a systematic activity conducted by whole squads and under the command of officers". This frequently involved murder for the purpose of securing bodies. For example, an Indian POW, Havildar Changdi Ram, testified that: " on November 12, 1944 the Kempeitai beheaded an Allied pilot. I saw this from behind a tree and watched some of the Japanese cut flesh from his arms, legs, hips, buttocks and carry it off to their quarters... They cut it small pieces and fried it."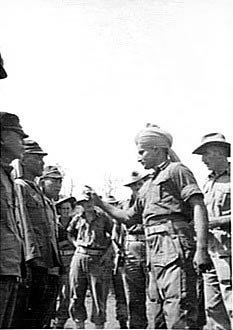 Officer identifies soldier who mistreated him
November 9, 1945. Jemadar (junior commissioned officer) Chint Singh of the Indian Army at an identification parade in New Guinea, indicating a Japanese soldier whom Singh claimed had mistreated him, while he was a prisoner of war. Japanese forces used many Indian Army personnel captured in Malaya and Singapore, as forced labour in the South West Pacific.
In some cases, flesh was cut from living people: another Indian POW, Lance Naik Hatam Ali (later a citizen of Pakistan), testified that in New Guinea:
the Japanese started selecting prisoners and everyday one prisoner was taken out and killed and eaten by the soldiers. I personally saw this happen and about 100 prisoners were eaten at this place by the Japanese. The remainder of us were taken to another spot 50 miles [80 km] away where 10 prisoners died of sickness. At this place, the Japanese again started selecting prisoners to eat. Those selected were taken to a hut where their flesh was cut from their bodies while they were alive and they were thrown into a ditch where they later died.
Perhaps the most senior officer convicted of cannibalism was Lt Gen. Yoshio Tachibana, who with 11 other Japanese personnel was tried in relation to the execution of U.S. Navy airmen, and the cannibalism of at least one of them, in August 1944, on Chichi Jima, in the Bonin Islands. They were beheaded on Tachibana's orders. As military and international law did not specifically deal with cannibalism, they were tried for murder and "prevention of honorable burial". Tachibana was sentenced to death.
Forced labour
The Japanese military's use of forced labour, by Asian civilians and POWs also caused many deaths. According to a joint study by historians including Zhifen Ju, Mitsuyoshi Himeta, Toru Kubo and Mark Peattie, more than 10 million Chinese civilians were mobilized by the Kôa-in (Japanese Asia Development Board) for forced labour. More than 100,000 civilians and POWs died in the construction of the Burma-Siam Railway.
The U.S. Library of Congress estimates that in Java, between four and 10 million romusha (Japanese: "manual laborer"), were forced to work by the Japanese military. About 270,000 of these Javanese laborers were sent to other Japanese-held areas in South East Asia. Only 52,000 were repatriated to Java, meaning that there was a death rate of 80%.
The Geneva Convention exempted POWs of sergeant rank or higher from manual labour, and stipulated that prisoners performing work should be provided with extra rations and other essentials. According to historian Akira Fujiwara, Emperor Hirohito personally ratified the decision to remove the constraints of international law on the treatment of Chinese prisoners of war in the directive of 5 August 1937. This notification also advised staff officers to stop using the term "prisoners of war". During World War II, such rules were largely respected in German POW camps, except in the case of Soviet POWs. However, Japan was not a signatory to the Geneva Convention at the time, and Japanese forces did not follow the convention.
---