Japanese war crimes
I am completely speechless, disgusted, saddened, shocked, infuriated, and sick after researching this story about JAPANESE WAR ATROCITIES. If you can read this article without being shocked to the point of throwing up, then you must have a strong stomach. As time passes we deny the Holocaust, and the Japanese make continued long term attempts to re-write history. I hope to GOD that a few of us will know first hand what brutality the Japanese did to our prisoners. This article is the absolute most complete, authoritative documentary on Japanese brutality. Our prisoners were used by vivisectionist to tortures that are heartbreaking. They performed operations, removing arms and legs from living man. Each day meat was cut from them and fed to the Japanese troops. Rape was rampant, there were amputations,castrations, mass killings, biological experiments, and of course the favorite Japanese atrocity, the beheading. The cannabalism, forced labor, chemical experimentation, looting, and mutilation of women are some of the sick crimes commited by the Japanese.
This is only part one in a series of three articles covering these atrocities. Part two covers the BATAAN DEATH MARCH, and part three covers the NANKING MASSACRE. These are only three of the hundreds of similar incidents. If you care anything about History, or the culture of the Japanese race, it will be worth your time to read and absorb these articles
 WEBSITE HISTORIAN
Japanese war crimes occurred during the period of Japanese imperialism. Other names, such as the Asian Holocaust and Japanese war atrocities, are also used for these events. Some war crimes were committed by military personnel from the Empire of Japan in the late 19th century, although most took place during the first part of the Showa Era, until the defeat of Japan in 1945. Historians and governments of many countries officially hold Japanese military forces, namely the Imperial Japanese Army and the Imperial Japanese Navy, responsible for killings and other crimes committed against many millions of civilians and prisoners of war (POWs).
Definitions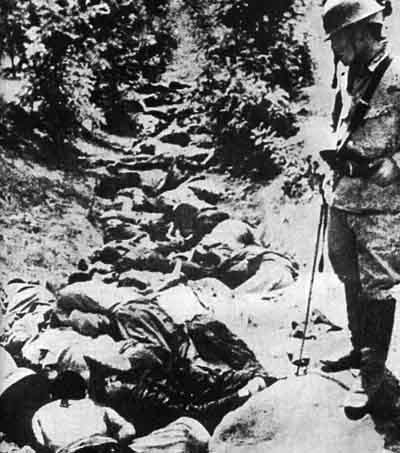 A DITCH FULL OF THE BODIES OF CHINESE CIVILIANS, KILLED BY JAPANESE SOLDIERS
War crimes may be broadly defined as unconscionable behavior by a government or military personnel against either enemy civilians or enemy combatants. Military personnel from the Empire of Japan have been accused and/or convicted of committing many such acts during the period of Japanese imperialism from the late 19th to mid-20th centuries. They have been accused of conducting a series of human rights abuses against civilioans and prisoners of war (POWs) throughout east Asia and the western Pacific region. These events reached their height during the Second Sino-Japanese War of 1937–45 and the Asian and Pacific campaigns of World War II (1941-45)
---