The Wayland Mayo Story
Biographical Notes
WAYLAND MAYO - AERIAL PHOTO GUNNER

THE EARLY YEARS
As I started to write my autobiography I suddenly realized that my life was all behind me. What would I give to relive just one day of it. I have always called North Carolina my home, born in New Bern, NC, and grew up in Washington, NC. I spent most of my time boating on the Pamlico River, the good life.
I attended Riverside Military Academy, in Gainesville, Ga. from 1943 to 1947. Their education program was equivalent to attending high school. and graduated with a Scientific Diploma and four years of Military Science and Tactics.

Cadet 1st Lt. Mayo, Battalion Adjutant, at right
Although Riverside — an ROTC Honor School with about 1200 cadets — was an infantry school , they had a good flight section. With some financial assistance from my father, I chose to participate in the flight program along with about 11 other cadets. The training involved some ground school, followed by flight time in the J-3 Cub and then the PT-19. I soloed in a J-3 as soon as I turned 16, a few hours later moved up to the PT-19. Soon after, on my own initiative, I was able to obtain flight time in the PT-17 at a nearby field from an instructor by the name of Ed Jared, who became a very good friend. There will never be fonder memories than flying open cockpit with the traditional leather jacket, helmet, and silk scarf.
Note: In order to help viewers put together some of the threads of this story, I think some special comment here will be of help. First of all, my family owned the Coca-Cola Bottling Co. in Washington, N.C. also "Maola" Ice Cream MFG. The reason I mention this is to say that not only were my parents encouraging me to pursue my flying interests, they were willing and able to assist me with financing the purchase of flying time whenever I wanted to rent an aircraft. I built up many hours in the PT-19 and the Stearman at Riverside. As I mentioned, the Stearman was at a nearby airfield and not connected with Riverside. I really loved it and got in as many hours as possible on the weekends. Even after I joined the Air Force I continued to rent aircraft: For example, my AF friend, Joe Frezza, and I would rent two Aeronca's while at Forbes AFB and fly whenever we could. That all came to an end when we moved overseas when the only flying I did was as Aerial Photographer in the RB-29.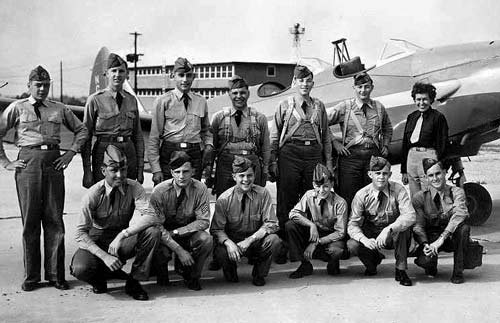 Wayland Mayo and other flight training cadets pose in
front of one of the PT-19 aircraft. Wayland is
located in the front row, left end.
Earlier, in 1945, Major Richard Bong, a great American hero, stopped at Riverside as part of a speaking tour. I had the honor of spending the evening with him, and I must say he made a lasting impression on me. He received the Medal of Honor for shooting down 40 planes in W.W.II with over 500 combat hours. After leaving Riverside he got married, and was later killed in a routine flight in a F-80.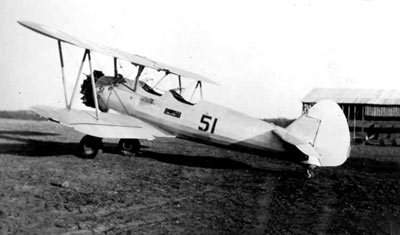 PT-17 Flight Trainer

Upon graduation, through the initiative of NC Congressman Herbert Bonner, I was offered an appointment to West Point, however flying was in my blood and I decided to join the Air Force, a decision I will never regret. To this day I still build model airplanes.

Wayland poses by his favorite flight trainer, the PT-17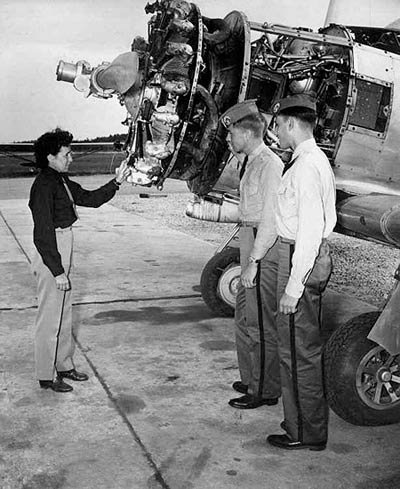 Wayland Mayo (center) receives instruction from flight instructor Major Olyve Johnson. Wayland has soloed in the PT-19 and PT-17 and is looking forward to the powerful AT-6.