David Lee Hill was born on 13 July 1915 in Kwangju, Korea, the son of a missionary who moved to Texas when he was six. After finishing Austin College in 1938, "Tex" completed naval flight school and served in a torpedo squadron on the USS Saratoga and in a dive-bomber squadron on the USS Ranger. Hill was among the first Americans to see combat in World War II. He volunteered to join the American Volunteer Group in China in 1941. The AVG would soon be known as the Flying Tigers.
Hill became a triple "Ace" during his time with the AVG and its Army Air Corps successor, the 23rd Fighter Group. He destroyed more than 18 enemy aircraft, including what is believed to be the first Japanese Zero shot down by a P-51 Mustang. His heroics were so legendary that he was portrayed by John Wayne in the movie "Flying Tigers".
But it was for his actions at the stick of a P-40 Tomahawk on October 25, 1942, that he was recently honored. The citation accompanying the DSC reads, in part"….while performing bomber escort duty in a P-40 aircraft over enemy held territory in the China Theatre….Major Hill attacked superior numbers of enemy aircraft rising to intercept the U.S. B-24 bombers.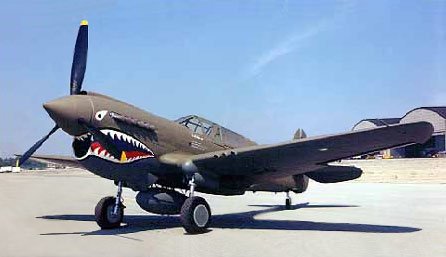 P-40 Tomahawk
Without hesitation, he turned his aircraft on its back for a high speed dive and placed his aircraft between the enemy fighters and the B-24 bombers". It goes on to read, "With exceptional flying ability, Major Hill forced the enemy to turn from the attack and dive away. With skillful marksmanship, he destroyed one aircraft and severely damaged three others resulting in their probable destruction".
On Thanksgiving Day 1943, he led a force of 12 B-25s, 10 P-38s, and 8 new P-51 Mustangs from Saichwan, China, on the first strike against Formosa. The Japanese had 100 bombers and 100 fighters located at Shimchiku Airfield, and the bombers were landing as "Tex" Hill's force arrived. The enemy managed to get seven fighters airborne, but they were promptly shot down. Forty-two Japanese airplanes were destroyed and 12 more were probably destroyed in the attack. The Americans returned home with no casualties.
President George W. Bush praised Hill's patriotism, writing: "During these extraordinary times we have been reminded that our achievements in peace and war have been built on the service and sacrifice of our men and women in uniform. Your devotion to duty and your legendary battles in World War II have earned you the respect and admiration of all Americans…. Your bravery in battle continues to be an inspiration as we face the challenges of a new era".
During the closing months of World War II "Tex" Hill commanded the 412th Fighter Group, the first jet unit in the Army Air Forces. The group flew the Bell XP-59 and later the Lockheed P-80.
In July 1946 Hill resigned his commission and left active duty. Shortly thereafter, he joined the Air National Guard and became the youngest Brigadier General in the history of that service. He Retired from the military in 1968.
Colonel Hills honors include: The DSC, Nationalist Chinese Order of the Cloud Banner, Chinese Victory Medal, British Distinguished Flying Cross, U.S. Distinguished Flying Cross, two Air Medals, Silver Star, and Legion of Merit.
Source U.S. Air Force Archives


(click image to view larger version)
Jerry Yagen and Tex Hill admiring the beautifully restored P - 40 flown by the Flying Tigers.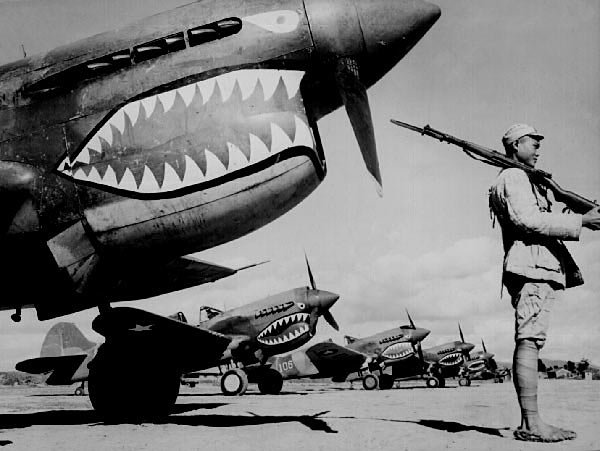 (click image to view larger version)
CHINESE SOLDIER GUARDS FLYING TIGERS P-40s.
Ctsy. to Army Archives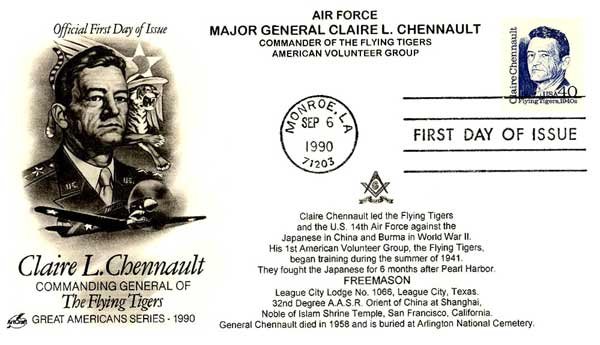 Major General Claire L. Chennault - Commander of the Flying Tigers
---