TALBERT "TED" ABRAMS
FATHER OF AERIAL PHOTOGRAPHY
A TRIBUTE TO LANSING'S FALLEN EAGLE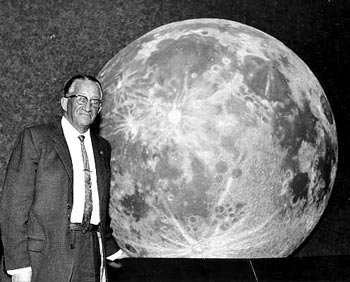 Beginning in 1945 Ted funded the Talbert Abrams Award for gifted students in science education. He also set up engineering scholarships through various engineering societies. Michigan State University had for years promoted a project to build a modern planetarium on the campus. In 1961 it became obvious that contributions were not going to cover the construction cost. Then Talbert Abrams, through the Talbert and Leota Abrams Foundation contributed the remaining $250,000 needed to build "One of the finest facilities of it's kind in the world". This was just another indication of his generosity toward his community. Michigan State University directed that the new facility be named The Talbert and Leota Abrams Planetarium. In 1998 the Foundation presented the Library of Michigan Foundation a check for $100,000 to purchase new materials for their genealogy collection. This gift brought the total contributions of the Abrams Foundation to $855,540 over the past ten years. Ted continued to receive impressive honors for his community service and generosity. One such honor was a tribute from the Michigan Senate for his "outstanding service in the field of aerial surveying". He was presented honorary doctorates from three Universities. He was the first individual inducted into the Michigan Aviation Hall of Fame. In 1973 he was installed into the OX-5 Hall of Fame, along with Jimmy Doolittle, Eddie Rickenbacker, Admiral Byrd, and Amelia Earhart. Ted was on the first scheduled flight to Moscow after WWII. He made the trip twice.
Abrams flight time is unlikely to be challenged. In one of his many testimonials he noted that he had "mapped 1,720 American cities, 515 counties, 5,800 miles of highways, 48,000 miles of utility lines, plus more than 1,000 major projects in 96 countries.
Ted Abrams Admires Mapping Job Flown by Wayland Mayo and Grant Kettles.
ST. Petersburgh, Florida. 21 Flight Lines, Over 700 Photos. Photo Credit to Wayland Mayo
enlarge above photo

COMMENTS: There are many superlatives to describe Ted Abrams. As one who greatly admired and respected him three words come to mind: Distinguished, Impressive, and Charismatic. He was one of a kind, the world is a better place because of him. I take pride in saying that I was employed at Abrams Aerial Survey for seven years in the 60's. My initial job was Chief Photographer, flying an AT-11 with the Chief Pilot Grant Kettles. Grant, with over 20,000 hours had been everywhere and done everything. I believe he was the oldest pilot in the state at that time. Not needing to log anymore time Grant was content to let me handle all the procedures. Of course in an effort to impress him I gave it my best shot. Our first job as a team was to map Grand Rapids, Michigan. I checked weather, reporting clear and 15, I filed the flight plan, checked the fuel, drained the sumps, pulled the props through, did the preflight, prepared the camera and checked all my equipment. When he arrived I advised him we were ready to go.
AT-11 Flown by Grant Kettles and Wayland Mayo. Notice Camera in Nose.
Photo by Wayland Mayo
enlarge above photo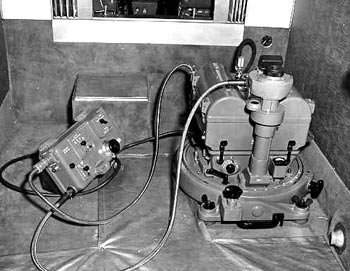 First Order Camera Installation in Abrams Twin Beech.
Photo by Wayland Mayo
enlarge above photo
I was very careful with the radio communications, take off, navigation, and once we were at altitude and trimmed he sat back and lit a big cigar, filling the cockpit with smoke. We arrived at the site, I got out the maps, he took over the flying and I crawled into the plastic nose. He was approaching our first flight line and I was ready to start the camera. We were ready to map Grand Rapids, right? Well not exactly. I had not removed the aluminum plate that covers the camera hole. I swallowed real hard and told Grant we had to land. Upon landing I got out and removed the cover, got back in and we flew the job. Just as we finished the last line cumulus clouds rolled in. Grant never said a word, he didn't have to. It was the most embarrassing moment in my life. Later I was promoted to Photo Lab Supervisor, which put me in charge of four flight crews. We had several 180's, a 185, and a couple of At-11's. I continued to fly with Grant until he retired. I had been fortunate to be teamed with a man I respected so much.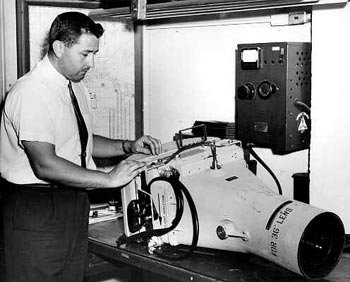 Wayland Mayo with 36" Camera he modified for Obliques. 9 X 18 Inch Negative.
Photo by Wayland Mayo
enlarge above photo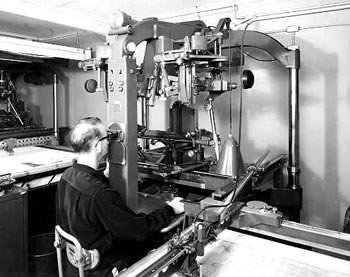 Later I was given the opportunity of a lifetime. I moved up to the Stereoplotter section, run by Silvano Tombelli. It was people like Grant Kettles and Tombelli that made Abrams the top mapping company in the U.S. Tombelli was very meticulous, insisting on nothing less than absolute perfection in the production of precision maps. He had an almost fanatical demand that our maps meet national map standards, and he is 100% responsible for the fine reputation Abrams commands. Once again I was fortunate to learn the Stereoplotter from a man of his caliber. Of course there have been many changes over the years, we now have better precision cameras, GPS, Gyro mounts, fully analytical stereoplotters, sophisticated triangulation programs, etc. Photogrammetry has come a long way, and we can thank Ted Abrams for his contribution.
Written by Wayland Mayo, website historian. Wayland is a certified Photogrammetrist State of Florida, and a Professional Surveyor and Mapper, State of Florida [retired].
---