B-29 Fly-over Honors WWII Airman
It was a long journey which led to Bill Royster to Saipan where he was a tail gunner on a B-29 Superfortress during WWII and a longer journey which led him here where a B-29 and a B-24 flew overhead in his honor.

Royster, 74, is originally from Goreville in Johnson County where he worked on a farm and at a general store before he was drafted into the US Army Air Corps in January 1943. He did not have a choice of assignment, but got what he would have picked anyway. He was trained to be an airplane mechanic.

Basic training at Miami Beach, FL was cut to 18 days because trainees were needed in the airplane mechanics school in Amarillo, TX.

"When I finished this mechanical school they posted which people would be ground crew and which would be flying and we all waited," Royster said. "Some people didn't want to fly and some people really wanted it in the worst way, so we really sweated out that list on the bulletin board."

Bill in Honolulu 1945

For every man who would fly, there were 500 that didn't, as people were needed to maintain the planes and headquarters.

"Mine turned out to be the ground crew and all I could think, "was sailors were sailing, infantry walking, air force flying. Here I was going to be in the Air Force but I wasn't going to fly. I finally had to go through channels and get to the commanding general on the field," Royster said.

After another physical examination, Royster was told that he was too heavy for his height, but the general signed a waiver so he could fly.

"He was nice a man as I ever talked to. He said I'd rather have one volunteer than 12 draftees and I'll fix it and he did", Royster said.

The trainees were then sent to the Boeing aircraft factory where the B-29's were being built. Few B-29's were coming off the assembly line and there were only two planes being tested.
The trainees were being sent to the factory to become familiar with the aircraft they were going to fly. The project was a military secret and trainees were subject to the precautions taken at the plant.

They next went to armament school to learn about every kind of bomb the Air Force used and the guns they used including the .50 caliber machine gun and the 20-mm cannon. Royster was being qualified for an engineer on an airplane.

After a leave of absence, Royster went to Clovis, NM where the trainees were assigned to their groups. "That's where we started to fly, but since there were no B-29's we had to use B-24's and B-17's. They were the two biggest bombers at that time before the B-29." Royster said. "You've heard of the 'Memphis Belle'. That was a B-17. We flew them for flight and navigation training."

After another group of B-29 crews left for Burma, Royster's 499th group went to Smokey Hill Army Base in Salina, KS. "We still flew B-17's because there were no B-29's, but gradually they began to trickle in. We'd get to fly them once in a while."

They then went to a staging area at Harrington, KS.




The 10 crews which did not have planes - including Royster's crew - went on to Lincoln, NE to wait for transportation, after the 10 crews with planes had left. They then went to Hamilton Field in California and finally got air transport to Hawaii where they saw the damage from the Japanese attack on Pearl Harbor.

"Then we began to think something about war. So far we had been playing games," Royster said. On to Johnson island and Marshall Island.

"After that the finally told us that we can tell you where you are going." They didn't tell us. "One more flight and then we will tell you. We don't like to put out too much information because loose lips sink ships". That was back in WWII when they told everybody that. They wouldn't tell us anything. They kept on saying, "loose lips sink ships". They assumed everyone had loose lips and you know what? They did. But we didn't know, so we couldn't tell."

The crews landed at Saipan which had just been taken from the Japanese and was not yet secure. The men were told to dig a foxhole at their first opportunity, but they did not see any danger so the explored the island instead. Just before sundown the air raid sirens started howling and Japanese planes attacked.

In October 1944, their commanding general, General Haywood Hansell, landed the first B-29 nicknamed 'Joltin' Josie' on Saipan.

"That's the only airplane in the world that I know day by day where it is sitting right now, because I made a note of it. On Easter Sunday 1945, that airplane never got off, it went straight down the runway and ran right into the ocean and it is laying at the end of Saipan right now under water. That plane died a sorry death and I was right behind it".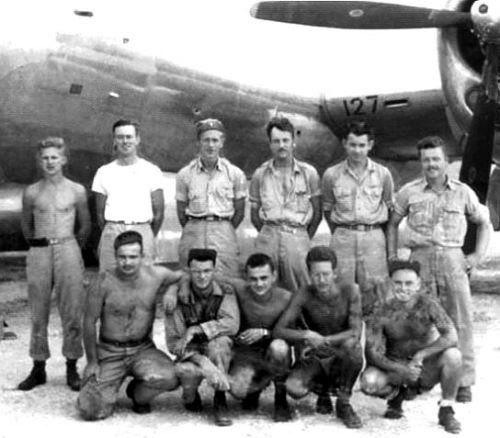 The crew of the "big Stick" pose on Saipan near their B-29 which was attached to the 879th Bomber Squadron of the 499th Bomb Group.
Back Row - L to R: Roy Palmer, radio operator; Ed Fanning, engineer; Walter Haut, bombardier; Woody Falson, airplane commander; Dewell Pittman, navigator; Charles Walters, pilot.
Front Row - L to R: Bill Royster, tail gunner and second engineer; Sam Robertson, left gunner; Raymond Wilson, right gunner; Bart Kamps, radar operator; Robert Carson, central gunner.

On December 3, 1944, Royster flew his first combat mission of the 29 designated V Square 44. He was the tail gunner. Royster flew 31 combat missions over Japan including firebomb raids on March 9 and 10, 1945, when crews dropped incendiary bombs on Tokyo.

Published sources note that 302 B-29's left for those raids with 279 arriving on target. 14 B-29's were lost on the missions which burned 16 square miles of Tokyo and caused a firestorm which resulted in approximately 84,000 deaths.

"It was the most destructive air raid that's ever been seen. A lot of people think the most destructive was the A-bombs, but the only thing the atomic bomb was one bomb from one plane," Royster said.

The B-29's did not fly without opposition, as Japanese guns fired flak at the planes. The sky would be filled with shrapnel. The "Big Stick" once received 54 holes from flak and another time then wounded Royster's compartment was shattered.

"It didn't blow out and I did not even know it was shot out," said Royster who was questioned by a newsman about how it felt to have the window shot out. "I said I did not even know it had happened. You are so keyed up that you don't know what's going on".
The B-29's were attacked by 600 planes on one mission and lost planes each mission. "We lost over 15% of our crews right away. My group had the best safety record of any squadron in our group. 32, 612 sorties were flown by individual B-29's, 437 B-29's were lost. Each one of them had 11 crewmembers aboard. That's the way it was. Mostly they would just never come back. We seldom knew what had happened to our people".

Royster flew his last mission near the end of July 1945 when he was shot in the side and spent three months in a hospital. Before he left the hospital, the atomic bomb was dropped and the war was ended.

On October 24, 1945, he left the service, having attained the rank of staff sergeant. He tried farming, worked as a telephone lineman and worked for the C and E Railroad, Missouri Pacific Railroad and Union pacific Railroad, staying with the same railroad as it was bought out by the others. He worked in Shelbyville and St. Elmo, before coming to Salem in 1975. He retired in 1985.

He and his wife Wanda Lou, married in 1947 and they have 3 children, tow daughters and a son, Bill Royster of Centralia, who shares his father's affinity for the B-29. Royster said he and his son became acquainted with Capt. Keith Kibbe of the Commermorative Air Force, who is the pilot of the restored B-29 named, 'Fifi' and tour director for the B-29/B-24 squadron which tours the US.

"We got acquainted and he liked me and respected what I had done," said Royster, who asked whether the planes could fly over Salem. He said 'that's the ,least we could do'. It gives you a swelled head. A man shouldn't feel as good as I did when that happened."

Bill in 2000

"No one ever heard of them doing a flyover for just one man. They bring millions of dollars' worth of airplanes over here. It cost millions to restore that B-29 and a lot for the BG-254 and I couldn't believe my good luck."

So on the morning of August 21, Royster stood at the airfield in Mt. Vernon and watched the squadron as they took off.

"They flew right down (Illinois) Route 37 at about 500 feet", Royster said. "The B-29 is 141 feet wide so that's just 3 wingspans high. Low enough to almost make the tree limbs blow."

You can email Bill at wdroyster@yahoo.com
---