JAPANESE BRUTALITY TO B-29 CREWS
The war was now expanding as every strike was a maximum effort. The Japanese had squadrons of planes designed for ramming the B-29s. Suicide raids were increasing. Kamikazi pilots swarmed the B-29s with a vengeance. The Japanese utilized a twin engine aircraft called the "Dragon Killer" for nighttime use against the B-29s. They were equipped with twin 20mm cannons pointed to shoot up from the aircraft. By flying under a flight of bombers they became a real menace. The Japanese also had a piloted rocket powered "flying Bomb", which when released from its high altitude mothership it could dive through a flight of B-29s at over 500MPH. All suicide possibilities were being used.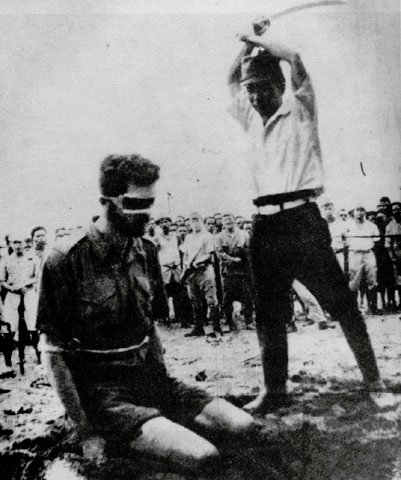 POW BEHEADING - NAT. ARCHIVES
By no means did the B-29 raids go off without devastating consequences. As the B-29s were shot down or crashed, the crewmen were captured and immediately beheaded. Villagers beat and killed the ones who were not beheaded. It was the same with the Doolittle Raiders. Brutality to the crewmen was absolutely unprecedented in its violence. Some Japanese "hospitals" were places where unspeakable crimes took place. The vivisectionists held contests to see which one could remove the most body parts without using anesthesia with the patient still alive. Typical was cutting off both legs, arms, the ears, and the tongue. If the "patient" was still alive he was disemboweled. Never in the history of the world has anyone been subjected to such barbaric treatment. Various tests were also made with poisons and chemicals, ending in death. The Nanking victims suffered basically the same treatment, with the Japanese causing extreme mutilation, especially to women. Whole villages were lined up and gasoline poured on their heads and set afire. Every crew member had to have thoughts of what would be his fate if captured. Similar incidents were recorded wherever there were Japanese soldiers. My photos cannot be shown, however all events once again have been accurately archived. It was not unusual for soldiers to hold contests to see who could cut off 100 Chinese heads with a sword first. Such was the fear that each crewmember carried with him on each mission.

OKINAWA
The war was now going into its most deadly period. Okinawa was fiercely defended
By soldiers committed to fight to the death. Tinian was preparing to launch the atom bombers, and on April 1, 1945, the U.S. had planned the invasion of Okinawa. By far, the battle for Okinawa would be the most deadly battle of the war. The largest amphibious assault was underway.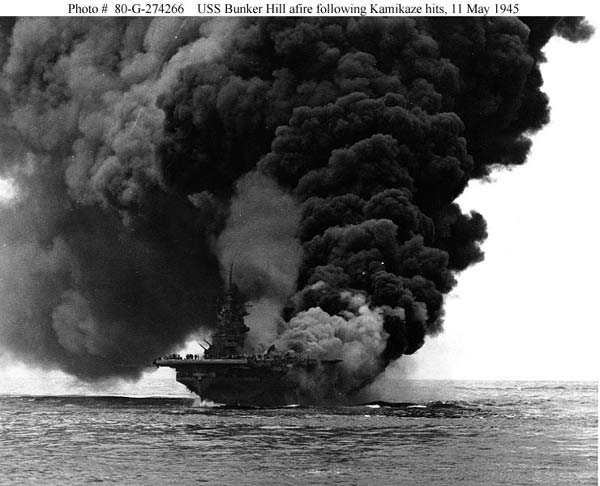 KAMIKAZI HITS BUNKER HILL
NATIONAL ARCHIVES


USS FRANKLIN AFTER JAPANESE AIR ATTACK
NATIONAL ARCHIVES
---