GUAM
Guam is the largest of the Mariana Islands, captured by the Japanese on 11 Dec, 1941. Guam was naturally the first Japanese possession to be taken by the Americans. The Allied plan for the invasion of the Marianas called for heavy bombardment by ships and planes from the Marshall Islands. Once air superiority was gained, the battleships could heavily bombard the Island. Guam was necessary as the two airfields would be suitable for our B-29s.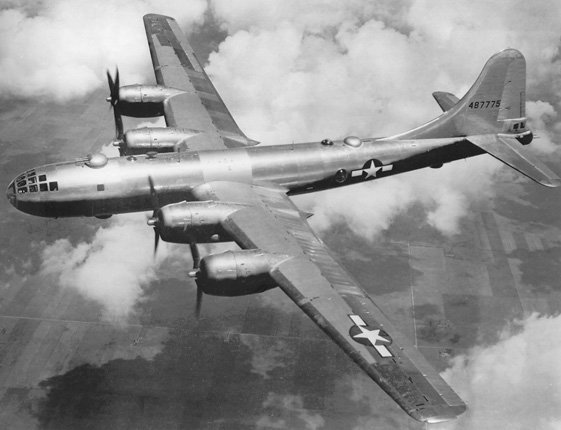 BOEING B-29 SUPERFORTRESS - USAF
The Island was well defended, but after continued pounding the Japanese ran out of food and ammunition. Rain and thick jungle made conditions difficult for the Americans, but continued pressure made the Japanese collapse. The Japanese, as expected, refused to surrender and almost all were killed. Guam was turned into a base for Allied Operations, with five large airfields built by the Seabees. Now B-29s were able to attack targets in the Western Pacific and also hit the Japanese mainland. Guam was the first stepping stone to Japan.

GEN. CURTIS LeMAY
USAF

LT. GEN. KURIBAYASHI
WIKIPEDIA
IWO JIMA
Next to follow was Iwo Jima. The Japanese were heavily fortified with tunnels, caves, bunkers, and artillery. Of the 22,000 Japanese soldiers present at the beginning of the battle, over 20,000 were killed and only 216 taken prisoner. The battle was an ominous warning to the Americans that the word "surrender" was not in the Japanese language. The Japanese now realized they were within range of our heavy bombers. When the commander of the Japanese arrived, there were 80 aircraft. Within a month only four remained. Mt. Suribachi became the focal point of the main Japanese defense.

FLAG RAISING AT IWO JIMA - JOE ROSENTHAL
The actual battle of Iwo Jima lasted approximately 35 days. Naval guns and as many as 100 bombers at the time eventually had a major effect, but fighting was still extremely fierce. Flame throwers were effective in flushing the Japanese out of their caves. Japanese troops became desperate towards the end of the battle. Marines faced an increasing amount of nighttime attacks. The Japanese leader, Kuribayashi, ordered his aide to cut off his head, but an American sniper killed him before he could finish the job. Kuribayashi then shot himself in the head with a pistol. It is suspected most of the Japanese actually killed themselves. In all, 2,251 B-29s landed on Iwo Jima during the war.
---