The Chinese were able to expel the Marines from the Reservoir but received heavy casualties as they fought for their own survival. The Chinese Peoples Volunteer Army considered the battle an honorable effort, even though they were not prepared for the large number of casualties they suffered. This campaign, with the simultaneous victory against forces to the west, was the first time in a century a Chinese Army was able to defeat a Western Army in a major battle.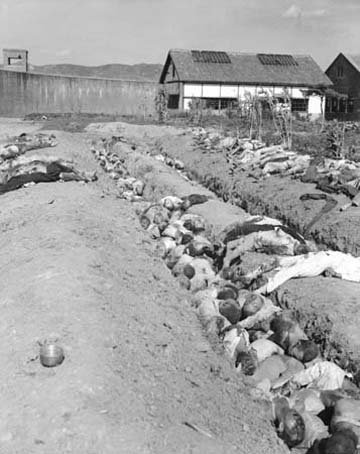 POWs SLAUGHTERED BY NORTH KOREANS
Dead Marines and soldiers were buried at a temporary grave site near Hungnam. The dead from each side were exchanged, remains of 4,167 Marines and soldiers were exchanged for 13,528 North Korean/Chinese deal. 456 civilians who died were turned over to the South Korean Government. 416 Korean War "Unknowns" were buried in the Punchbowl Cemetery in Hawaii.
This entire conflict is a good example of the futility of war, as we all ended up basically where we started. Our losses were staggering. Was it really worth loosing one man in such a God Forsaken place.? Americans shrugged it off like it never happened.
So Korea became the forgotten war. It is inconceivable to consider the misery and death that occurred there and just forget about it. I was there, and for all these years it has been difficult to live among apathetic Americans who don't care because they were not there. I would gladly do it all over again.

ENTRANCE TO MARINE NATIONAL MUSEUM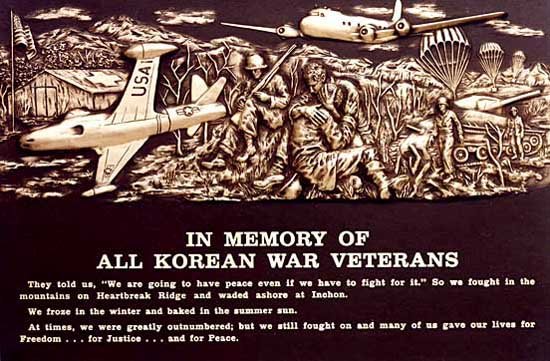 KOREA PLAQUE by Wayland Mayo


USMC SILENT DRILL PLATOON

MARINE DRUM AND BUGLE CORPS

PUNCHBOWL CEMETERY IN HAWAII
Wayland Mayo – website historian.
---