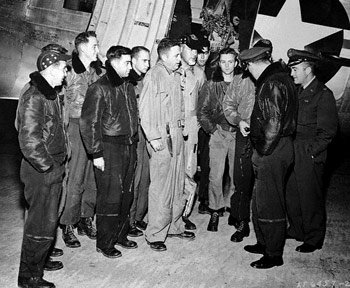 click image to view larger version
Photo of Downed Crew with Crew Listing.

Original caption: Colonel Albert Welshgn (right), Commander of the 6007th
Reconnaissance Group, and Lt. Col. Raymond E. Gandy (right, foreground),
Commander of the 91st Strategic Reconnaissance Squadron, confer with ten
crew members of the U.S. Air Force RB-29 that was shot down by two Russian MIG fighters off the northernmost Japanese island of Hokkaido. Pictured after their return to Yokota Air Force Base are (left to right) Sgt. Harold R. Taylor, of Newport, Delaware; A/3C Wallace B. Whalen (partially hidden behind Taylor), of Union, N.J.; A/1C John W. C. Dalton II, of Tulsa,
Oklahoma; 2nd Lt. Henry J. Sechler, of Clara City, Minnesota; A/1C Robert E.
Berry, of Carrizozo, N.M.; 2nd Lt. Harry L. Rollins, Chickasha, Oklahoma;
1st Lt. David N. Oliver, of Corvallis, Oregon; A/2/C Walter K. Lentz, of
Astoria, (L.I.), N.Y.; A/3C Earl E. Weimer, of Elkins, West Virginia and
Captain Anthony Fieth, Pilot, of Chester, PA.