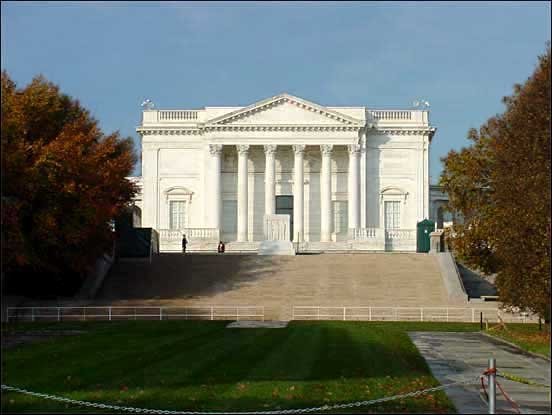 ctsy Arlington National Cemetery
TOMB OF THE UNKNOWN SOLDIERS
The Arlington National Cemetery became a military cemetery in 1864. More than 240,000 distinguished people are buried there, Presidents, Generals, and Congressional Medal of Honor winners.
In 1921 an unknown American soldier was buried there, and the Tomb of the Unknown Soldier was opened to the public in 1932. Two additional Unknowns, one from WWII and one from the Korean War were buried May 30, 1958. An Unknown Serviceman of Vietnam was buried on May 28,
1984. In June of 1998 his body was identified using DNA testing technology as First Lt. Michael Blassie, an Airforce Pilot from St. Louis. Technology will probably prevent another "Unknown" from being buried in the tomb.
The inscription carved on the Tomb of the Unknowns reads:
HERE RESTS IN
HONORED GLORY
AN AMERICAN
SOLDIER
KNOWN BUT TO GOD

Source Arlington National Cemetery
---