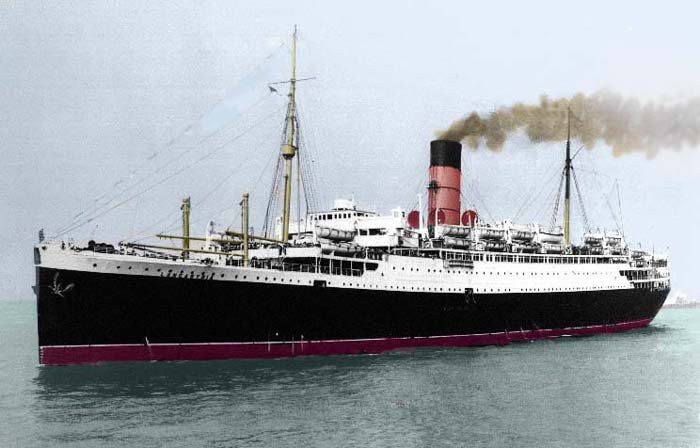 THE LANCASTRIA IN PEACETIME
On the 17th of June 1940 the 16,000 ton Cunard liner Lancastria lay 5 miles off St Nazaire and embarked troops, RAF personnel, and civilian refugees, including women and children, who were being evacuated from France, which was then on the point of collapse. The number on board may never be known, but almost certainly exceeded 6,000; some estimates were as high as 9,000.
She anchored and began evacuating soldiers from the British Expeditionary Force along with some RAF men and a few civilians. There were so many people to evacuate that the afternoon arrived and the ferrying to and fro was still continuing. British Reserve Naval officers had coordinated the embarkation of evacuees. When the captain was asked how many troops his ship could take he replied "3,000 at a pinch". By mid afternoon counting had ceased at 4000 and still the loading continued. There is no accurate figure for the number aboard but it is estimated that there were over 7000 people. The Lancastria was literally overflowing.
Then the bombing began. German aircraft flew overhead and, being trained for shipping attacks, were both delighted and amazed to see the enormous cruise ship undefended and stationary, just waiting for their arrival! It nevertheless took the enemy planes almost 2 hours to strike the Lancastria. Four bombs hit in total, one was a bull's eye, dropping straight down the funnel and exploding in the engine room. Less than 20 minutes later, the Lancastria rolled onto her port side and made her way bow first to her grave on the seabed.
Nobody knows for sure how many lost his or her lives that day because nobody knows exactly how many people were on board. Estimates are that approximately 4500 or 5000 people died. Thankfully around 2500 were rescued.
Part of the reason the Lancastria's history is not well known is that Winston Churchill felt the country's morale could not bear the burden of such terrible news and newspapers were ordered not to print the story. Survivors were forbidden under the King's Regulations to mention the disaster and people killed were listed as "missing in action". However, the story of the sinking finally broke in New York newspapers on 26th July 1940 and was soon afterwards taken up by the British press. The official report however is still sealed until the year 2040 under the Official Secrets Act. Currently the evidence remains under lock and key for another 40 years.
The Lancastria lies forgotten with 26m of water on top of her.
Source: BBC
---