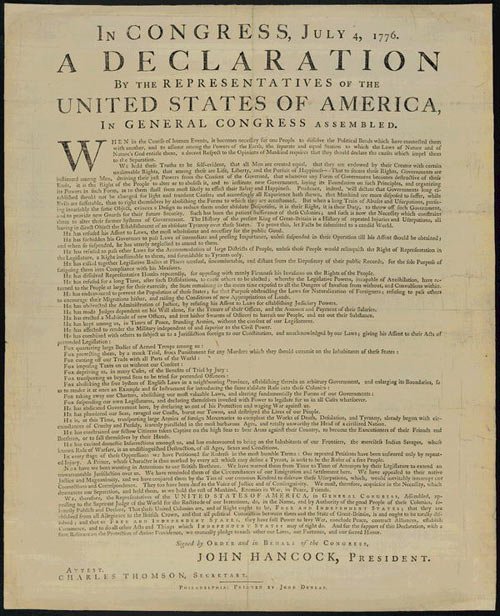 THE DECLARATION OF INDEPENDENCE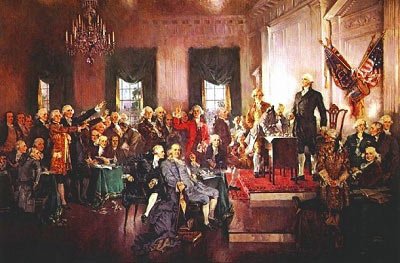 JOHN TRUMBULL'S FAMOUS PAINTING.

PREAMBLE TO THE CONSTITUTION
We the people of the United States, in order to form a more perfect union, establish Justice, insure domestic tranquility, provide for the common defense, promote the general welfare, and secure the Blessings of Liberty to ourselves and our Posterity, do ordain and establish the Constitution for the United States of America.
BILL OF RIGHTS
The United States Bill of Rights were the ten amendments added to the Constitution in 1791.
The Constitution established our three branches of Government: Legislative, Executive, and Judicial, and was adopted on Sept. 17, 1787 by the Constitution Convention in Philadelphia.
The DECLARATION OF INDEPENDENCE was an act of the Second Continental Congress, adopted on July 4, 1776, which declared that the Thirteen United Colonies "are, and of Right ought to be Free and Independent States; that they are Absolved from all Allegiance to Great Britain." It proclaimed that they formed a new nation called the "United States of America" that would "assume, among the powers of the earth, a separate and equal station." The Declaration, written chiefly by Thomas Jefferson, explained the justifications for breaking away, and was an expansion of the July 2 Lee Resolution, which first proclaimed independence. Abraham Lincoln most succinctly explained the central importance of the Declaration to American history in his Gettysburg Address of 1863:
Four score and seven years ago our fathers brought forth on this continent, a new nation, conceived in liberty, and dedicated to the proposition that all men are created equal.
EXERPTS FROM THE DECLARATION OF INDEPENDENCE
When, in the course of human events, it becomes necessary for one people to dissolve the political bands which have connected them with another, and to assume, among the Powers of the earth, the separate and equal station to which Laws of Nature and Nature's God entitle them a decent respect to the opinions of mankind requires that they should declare the causes which impel them to the separation.
We hold these truths to be self-evident, that all men are created equal, that they are endowed by their Creator with certain unalienable rights, that among these are life, liberty, and the pursuit of happiness.
---