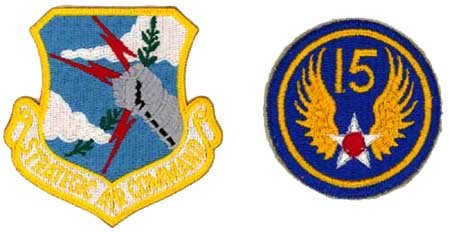 RIDE ALONG ON A COMBAT MISSION WITH THE 91st SRS
RECOLLECTIONS OF A TYPICAL MISSION
The 91st Strategic Reconnaissance Squadron was one of the first units to see action in the Korean War. At the time we had very little photographic coverage of North Korea. We needed immediate coverage of all enemy airfields, rail systems, dams, bridges, and troop movements. After the bomb groups have done their work, bomb damage assessment is extremely important. I thought it would be interesting to cover just one typical combat mission on our website so our readers could get an idea of just what is involved to take an RB-29 deep into enemy territory, and see what was required from the crewmembers. So lets start the day before the mission and you can get an idea of the coordination and job performance of each crew position.
It is the day before the mission, and there is much to be done in preparation for the flight tomorrow. Our crew consist of the Aircraft Commander, Capt. Torrey, the Co-Pilot, Navigator, radio operator, flight engineer, central fire control gunner, left gunner, right gunner, tail gunner, two aerial photo gunners, and our Radar operator, Capt. Ridge. I happen to be one of the aerial photo gunners. We do not know exactly what the mission tomorrow will be, but we were told to load 40 magnesium photo-flash bombs.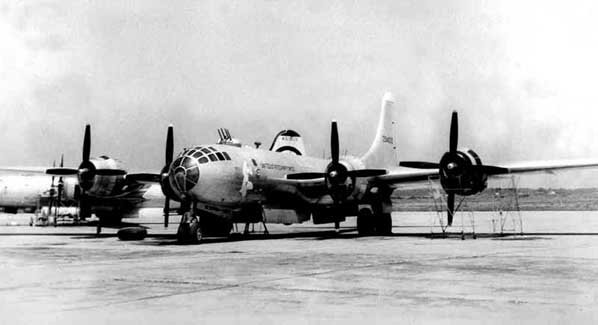 PHOTO OF AIRCRAFT ON FLIGHT LINE enlarge photo
There was a lot of work to be done, all the camera magazines had to be loaded, camera windows cleaned, lenses cleaned, window blowers checked, oxygen system and walk around bottles filled, an order put in for the flight lunches, and the ground crew had their work cut out for them.The R-3350 engines are notorious for oil leaks, so they have to be pressure checked before take off.The gunners had to make sure all guns were cleanand filled properly with ammo.
The central fire control system had to be checked out to make sure the remote controlled turrets operated properly. By afternoon there was a beehive of activity around the aircraft, which happened to be RB-29 4000, better known as "Tiger Lil". The gas truck arrived, the bomb truck arrived, and trucks arrived delivering 50 cal. Ammo. I was told to install a K-19 night camera and photoelectric cell as we were to accomplish night photography.Loading the bombs is tedious, as these are magnesium. Each one has to be hand cranked up into the bomb bay and hooked onto a shackle which attaches to two points on the bomb, front and rear.

An arming wire is run through the proximity fuse on the nose of the bomb. There is a small propeller on each bomb, as the shackle releases it the arming wire is pulled out and the propeller starts to turn. While there are many variations of fuses and detonators ours had to turn 232 revolutions and was then armed, set to explode approximately 1500ft above the ground. So everything was double checked. The camera equipment was double checked. The plane was topped off with fuel, the oxygen system was double checked. The CFC man went over the entire gunnery system, while the ground crew continued working on the oil leaks. These are just a few of the things to be done, we don't want anything going wrong at a critical time during the mission. Everything seems O.K., so we leave for the barracks. Before turning in I clean and check my 45 and get my gear ready. Tomorrow is the big day. The night passes without incident, just a little restless. I am thinking I hope we don't have to go to Pyongyang again.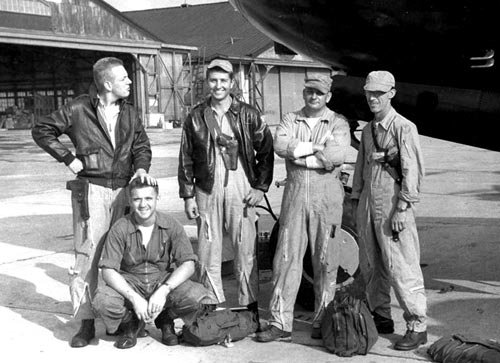 MAYO, SECOND FROM LEFT , WITH FRIENDS enlarge photo
Most of the time the bus arrives to pick us up around 3 am. We will be doing some night photography so it arrives at 7 am, takes us to the chow hall. Great! I always liked scrambled eggs and bacon, and lots of it. After breakfast the bus takes us to briefing. We still don't know where we will be going. At briefing there are other crews there. It's like a theater, and up on the stage a curtain is pulled revealing a massive map of Japan, Korea, Manchuria, China, and Russia. There is a different color string for each crew. Ours is red, and it goes directly to Pyongyang. I hate Pyongyang. We have to photograph three areas there, two airfields and a rail junction. You can get the two airfields in one pass, but you have to turn around and return to catch the rail junction. When you come back for the second pass they have your altitude and airspeed established and the flak is pretty bad. From there the string goes up through Sinanju and Sinuiju which is Mig Alley area, then across the Yalu to the huge Antung Airfield. From there it goes to several bridges crossing the Yalu, and finally to Rashin. The U.S. suspected that supplies were being moved at night from Vladivostok, Russia by rail into Rashin for distribution in North Korea. The problem is that to make a run on Rashin puts you very close to Vladivostok, and could touch off an incident. Truman ordered MacArthur to not bomb Rashin because of this problem. So the red string said it all, it wasn't going to be a milk run with us crossing into China and very close to Russia.
---